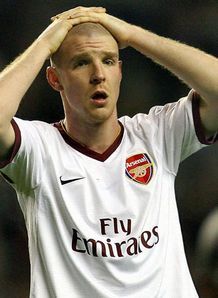 Just how little did Wenger rate Big Philly Senderos?
It just hit me there now: I totally forgot about his existence when writing that last post. Started the season at Arsenal as back-up, only played in the carling cup, and was ALLOWED LEAVE (on loan?) in January, so that Campbell and Silvestre comprised our centre-back reserves.
Anyway, things could really get ugly tomorrow night. I think I'll take a perverse enjoyment out of it.
If Arsenal even keep it close, it will all look hugely noble.
But maybe Campbell, despite everyone including Wenger's worries about his lack of pace, will help with his organisational abilities. We've let in less soft goals with him in the team.
If you've forgotten why it's a good thing Philly is gone, just look at the picture above.